HackConf 2018 FAQ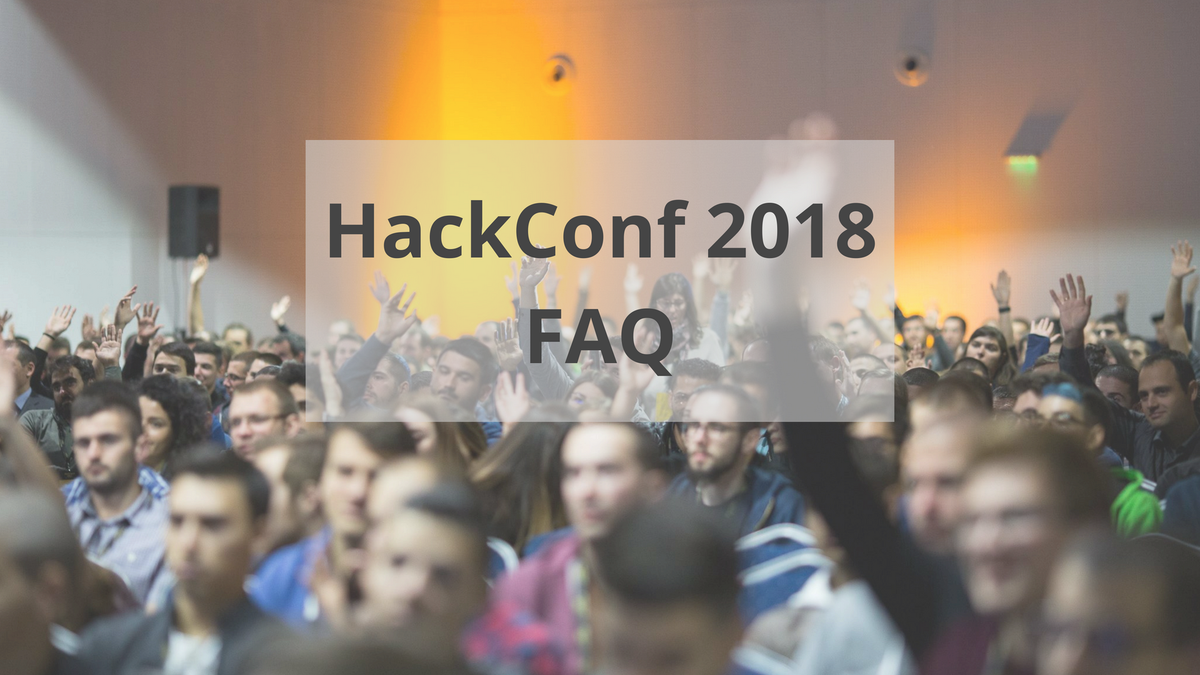 General questions
✅ When is HackConf 2018?
Conference days are 15th and 16th of September. Workshops are held on September 14.
✅ Where is HackConf 2018?
Sofia Tech Park: John Atansoff Innovation Forum, located at 111 Tsarigradsko Shose Blvd.
✅What language will be used throughout the conference?
All lectures will be held in English. 

✅ How to get to the venue? 
  ✔️ By public transportation: 
Direct lines: Trolley buses 5 and 8 to station "Sofia Tech Park" 
Buses 1, 3, 6, 84,184, 306, N1 to station "Sofia Tech Park"
Trolley buses 4 and 11 to Arena Armeets Stadium (10 minute walk)
Lines with stops nearby: 76, 204, 213, 280, 304, 305, 505, 604.
✔️ By SPARK Electric Cars:
SPARK is an electric car sharing service based in Sofia. Initial fee on the basic models (VWeUp) is 3.48 BGN for the first 12 minutes and then 0,29 BGN per minute, until you reach 57 BNG in week days or 49 BNG in weekend days, after which moment the vehicle is yours for 24 hours since the start of the session. 
The cars in SPARK can be precisely located, reserved and rented through a mobile application. Sofia Tech Park is a SPARK zone, meaning you can easily pick up and drop off a vehicle there.
SPARK website.
✔️ By car:
There are more than 200 parking spaces next to the venue, the price per hour is 1 lev.

✅  Where to stay? 

You can book a room anywhere in Sofia. We recommend  Hotel Rila, as it's located in Sofia center and will provide special rates to our attendees:
Standard tween room for 79 BGN per night

Standard double room for 85 BGN per night

Triple room for 95 BGN per night
You can send your booking requests directly at reservations@hotelrila.bg and don't forget to mention that you're a HackConf attendee! :)
Tickets and Registration
✅ How do I get a ticket?
Tickets are sold through our website.  Students can receive a price discount from the Regular ticket price.  
✅ Must I bring my student ID with me if I have purchased a student ticket?
Yes. If you purchased a student ticket you will be required to present your student id at the registration desks.
✅ Do you offer a discount for groups?

Yes. There are available offers for groups of 10 and 3:
Groups of 10 gets 50% discount from the Regular ticket price and 30% from the Student ticket price; 

Groups of 3 can get 3 tickets for the price of 2;
✅ Can I pay at the door?
No. Tickets can be purchased through the website only.
✅ Where do I get my badge?
Once you've purchased your ticket, you will receive a confirmation email from Weemss. Save your ticket on a mobile device or print it - you'll need to show it at registration in order to receive your personal badge.
Reception desk opens at 8.30 am on Saturday, Sept. 15 in the foyer of John Atanasoff Hall, Sofia Tech Park. While you're in the event area, your badge must be on you at all times.
✅  What is the refund policy?

Any attendee who can not attend the event can cancel their ticket and be refunded as follows: 
Cancellations must be received in writing (via email at conf@hackbulgaria.com) in advance of the event. 
The following cancellations charges apply: 
                  ● Before 10th of September, 2018: Full refund.
                  ● Failure to attend: No refund. 
                  ● Tickets are transferable to another person up until September 10th. Requests for such transfers will be approved via email: conf@hackbulgaria.com.
✅ What is included in my ticket?
All tickets grant access to: 
✔️ 2 days of high-class software development talks
✔️ 1 day of hands-on tech workshops (Registration TBA)
✔️ Barista-style coffee 
✔️ Lunch on both conference days 
✔️ HackConf2018 T-shirt & awesome goodie bag
Conference questions
✅  What should I do if I lose my badge during the event?
Go to the registration desk and we will assist you.
✅ Where can I find the program?
The program will be published on our website, AND it's printed on the back of the badge you'll receive at registration.
✅ Where can I find more information about the talks?

All speaker's topics you can find on our website, just click on any speaker's photo to see more.
✅ Will there be free Wi-Fi at Sofia Tech Park?
Yes, wireless is available at the venue. The attendee network is called HACKCONF2018 and can be accessed without a password.
✅ Is there a live stream of the conference that I can follow online?
Yes. There will be an online stream on HackBulgaria's YouTube channel.
✅ Is there an official hashtag?
Yes! #hackconf
✅ Is smoking allowed inside?
Smoking is prohibited indoors, but allowed outdoors.
✅ I do not want photos of me taken at the event?
No problem. At the registration desk, simply ask for a white lanyard for your badge. This will signal to our photographers that they should not shoot you.
✅ Where are the lunch and drink areas located?
Lunch area is located down the event floor. Coffee stations will be located on the event floor.
✅ What will lunch include? 
Fresh salads from Bulgarian farmers, cooked dishes and wraps made by CoKitchen in three menus: vegan, vegetarian and meat. Locally sourced fruits, provided by the food producers' co-operative Hrankoop. 
Have any questions? Write us at conf@hackbulgaria.com or Facebook/Twitter. 
We'll include them in the article. :) 
Can't wait to see you!
HackConf team